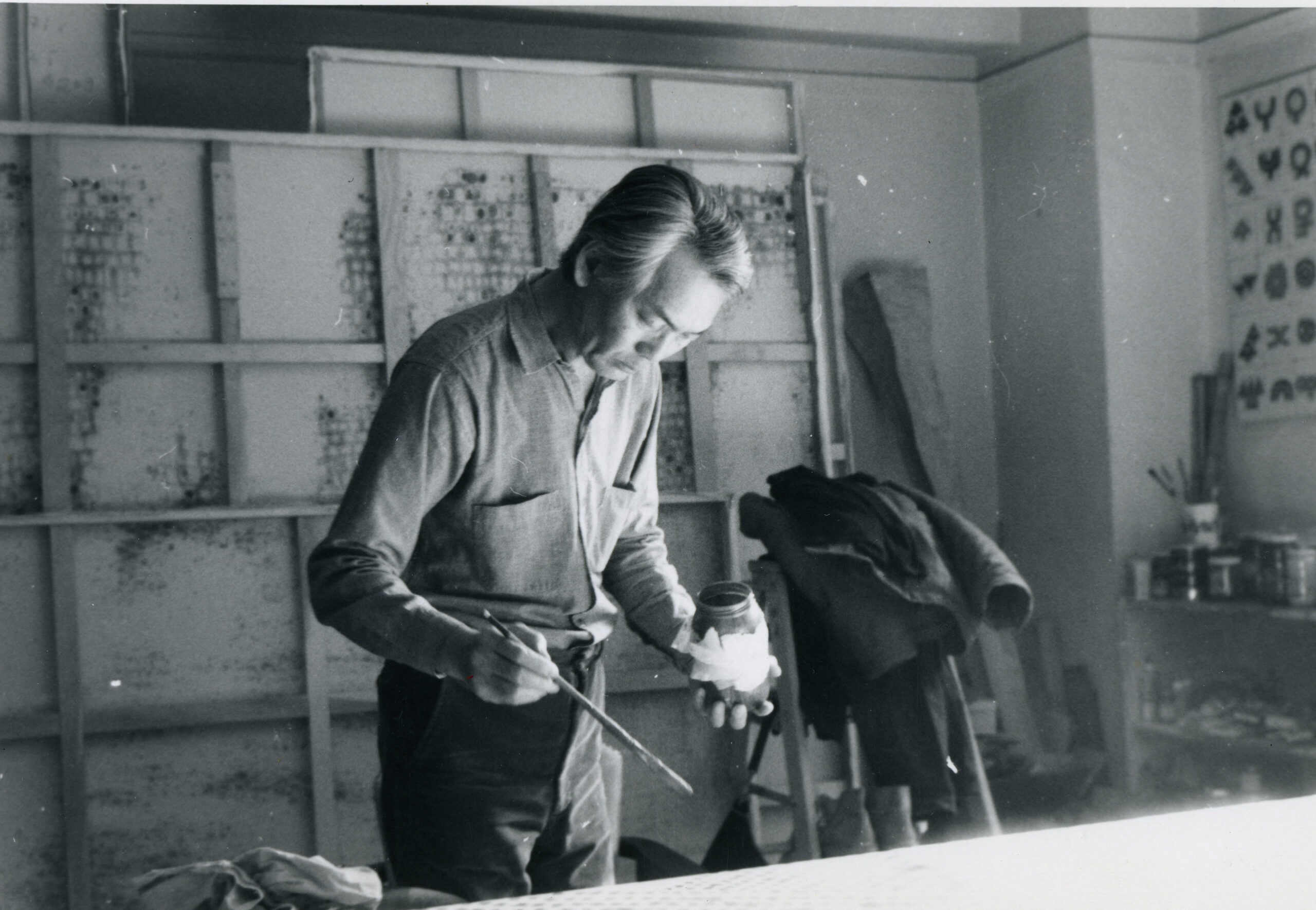 KIM Whanki(Pen name: Su-Wha, 樹話) led us to the universe of inspiration and meditation through his art world. He is considered to create a "formative poetry" that pursues Korean sentiment and nature. With such sophisticated composition that people around the world could share with, he modernizes the traditional beauty that reaches us today.
The artist pioneered the way to abstract art since the 1930s, and beautifully shaped the Korean sentiment with dense and rich expression for nature like mountains, the moon, and many others. During the Paris and Seoul Period, his art gradually embodied Korea's unique world of lyricism in strict and restrained formality.
In the New York Period, he was awarded at the São Paulo Biennale and headed to New York, therein he deepened universal and intimate world of lyricism with pure elements of dot, line, and plane, leaving sublime abstract world as a meditative poetic space.
1913
Born in Korea
1933
Entered the Department of Arts at Nihon University, Tokyo
1934
Joined the Avant-Garde Western Art Institute (アヴァンギャルド洋画研究所) in Tokyo, under guidance of FUJITA Tsuguharu (藤田嗣治) and TOGO Seiji (東鄕靑兒)
1934~41
Participated in Hakujitsu Fine Art Association (白日会), Kofukai Art Association (光風会), Jiyu Bijutsuka Kyokai (自由美術家協会), Shinjidaiyogaten (新時代洋畵展), and Ninth Section Group (九室會) in Tokyo
1935
Awarded at the 22nd 《Nika Association (二科会)》 Tokyo, with <When the Skylarks Sing>
1936
Formed Baikmanhoe (白蠻會) with GIL Jin-seop, TAKENA Tashikami (鶴見武長), YUIKO Kanno (管能由爲), MIEKO Funakoshi (船越三技子)
1937
Held the 1st Solo Exhibition at Amagi Gallery, Tokyo
Returned to Seoul
1941
Held the 2nd Solo Exhibition, Jeongjaok Gallery, Seoul
1946~50
Served as professor at the Department of Art of Seoul National University, Seoul
1947
Formed Sinsasilpa (New Realism Group) with Artist YOO Youngkuk and LEE Kyusang
1948~53
Held 《Sinsasilpa Exhibition》 with YOO Youngkuk, LEE Kyusang, CHANG Ucchin, LEE Jungseob, PARK Youngsoo at Hwashin Gallery, Seoul
1949
Participated the 1st 《National Art Exhibition》, as artist and judge in the Western painting section
1952
Held the 3rd Solo Exhibition, New Seoul Tea Room, Busan
1952~55 / 1959~63
Served as professor and dean at the Department of Western Painting at Hongik University, Seoul
1954
Held the 4th Solo Exhibition, USIS Gallery, Seoul
1954~74
Served as member of National Academy of Arts of Republic of Korea
1956
Held the 5th Solo Exhibition, Donghwa Gallery, Seoul
Moved to Paris
 
Held the 6th Solo Exhibition at M.Bénezit Gallery, Paris
 
Held the 7th Solo Exhibition at M.Bénezit Gallery, Paris
1957
Held the 8th Solo Exhibition at M.Bénezit Gallery, Paris
 
Held the 9th Solo Exhibition at Muratore Gallery, Nice
 
Held the 10th Solo Exhibition at Cheval de Verre Gallery, Brussels
1958
Held the 11th Solo Exhibition at Institut Gallery, Paris
1959
Returned to Seoul
 
Held the 12th Solo Exhibition 《KIM WHANKI Art Exhibition》, including <Mountain and Moon>, <Deer of the Moonlight Night>, and <Song of Eternity>, Korean Information Center, Seoul
 
Held the 13th Solo Exhibition, Bando Gallery, Seoul
1960
Served as president of The National Committee of Association for International Plastic Arts of UNESCO in Seoul
1961
Held the 14th Solo Exhibition, Korean Information Center, Seoul
1962
Held the 15th Solo Exhibition, Korean Information Center, Seoul
1963
Served as chairman of Korean Fine Arts Association
 
Held the 16th Solo Exhibition, Korean Information Center, Seoul
 
Participated in the 7th São Paulo Biennale as Korean representative and awarded the honorary prize in the category of painting, submitting 3 works including <Moonlight in Summer Night>, <Moonlight Night of Island>, <Cloud and Moon>, São Paulo
 
Moved to New York
1964
Received fellowship from the J.D.Rockefeller III Foundation, New York
 
Held the 17th Solo Exhibition, Asia House Gallery, New York
1965
Invited to the Special Exhibition Room of the 8th São Paulo Biennale and held the 18th Solo Exhibition, São Paulo, Brazil
1966
Held 19th Solo Exhibition, Tasca Gallery, New York
1968
Held 20th Solo Exhibition, Gotham Book Mart Gallery, New York
1970
Awarded the Grand Prize with <Where, in What Form, Shall We Meet Again> at the 1st 《Korea Arts Exhibition》 sponsored by the Hankook Ilbo, Gyeongbokgung Palace Museum, Seoul
1971
Held the 21st Solo Exhibition, submitting large-scale paintings including <Universe>, Poindexter Gallery, New York
 
Held the 22nd Solo Exhibition, Shinsegye Gallery, Seoul
1972
Held the 23rd Solo Exhibition 《Air and Sound》, Poindexter Gallery, New York
1973
Held the 24th Solo Exhibition, Poindexter Gallery, New York
1974
Held the 25th Solo Exhibition, Shreveport Barnwell Art Center, Louisiana
 
Passed away at the age of 61 years in New York
Books
-KIM HyangAn, 『The Man is gone, but the Art has remained- KIM Whanki's Biography』, Woosuk Publications Co.,Ltd., Seoul, 1989
-KIM HyangAn, 『Living in Paris and New York』, Jisiksanup Publications Co.,Ltd., Seoul, 1991
-『KIM Whanki; Korean Modern Painting Collection – Western-Painting 5』, Kumsung Publishing Co.,Ltd., Seoul, 1990
-『WHANKI』, Whanki Foundation, Seoul, 1992
-『WHANKI Vie et Oeuvre : Life and Work』, Maeght Editeur, Paris, 1992
– KIM HyangAn, 『A Story Between Us : Building Whanki Museum』, Jungwoo Publications Co.,Ltd., Seoul, 1994
– KIM HyangAn, 『Cafe and Korean Paper』, Munyei Publications Co.,Ltd., Seoul, 1995
-KIM Whanki, 『Where, in What Form, Shall We Meet Again』, Whanki Foundation, Seoul, 2005
– KIM HyangAn, 『The Heart Under the Moon』, Whanki Foundation, Seoul, 2005
– 『WHANKI, A Pioneer of Korean Modern Art』, Whanki Foundation·Whanki Museum, Seoul, 2017
– KIM Whanki, 『KIM Whanki's collection of art poems : Poems for Painting』, Whanki Foundation·Whanki Museum, Seoul, 2017
-『WHANKI MUSEUM HIGHLIGHTS』, Whanki Foundation·Whanki Museum, Seoul, 2018
-『Whanki in New York : KIM Whanki's Life and Art Through His New York Journals』, Whanki Foundation·Whanki Museum, Seoul, 2019
Exhibition catalogues
-『KIM Whanki』, Iljisa, 1975
-『KIM Whanki; Selected Works of 100 Modern Korean Painters & Sculptors』, Kumsung Publishing Co.,Ltd., Seoul, 1976
-Cloude Bouyeure, 『WHANKI : Une Luminieuse Traversee』, Whanki Foundation, New York, 1981
-Pierre Courthion, 『WHANKI』, Whanki Foundation, New York, 1981
-『Commemorative Exhibition, Whanki's 10th Memorial Day』, National Museum of Modern and Contemporary Art, Seoul, 1984
-Jean-Jacques Lévêque, 『WHANKI: Dessins 1972~1973』, Whanki Foundation, New York, 1985
-Claude Bouyeure·Jean-Jacques Lévêque, 『WHANKI Rétrospective 1963-1974』, Centre National des Arts Plastiques, Paris, 1987
-『WHANKI Oil on Paper 1968』, Whanki Foundation, New York, 1990
-『WHANKI MUSEUM Opening Exhibition – KIM Whanki in New York 1963-1974』, Whanki Foundation·Whanki Museum, Seoul, 1992
-『Chant for Eternity』, Whanki Foundation·Whanki Museum, Seoul, 1993
-『WHANKI MUSEUM : Opening Exhibition』, Whanki Foundation·Whanki Museum, Seoul, 1993
-『KIM Whanki's Book and Illustration』, Whanki Foundation·Whanki Museum, Seoul, 1993
-『KIM Whanki Retrospective Exhibition, Whanki's 20th Memorial Day – Where, in What Form, Shall We Meet Again』, Whanki Foundation·Whanki Museum, Seoul, 1994
-『50th Anniversary – KIM Whanki and KIM HyangAn』, Whanki Foundation·Whanki Museum, Seoul, 1994
-『KIM Whanki Cross-Composition』, Whanki Foundation·Whanki Museum, Seoul, 1995
-『WHANKI Oeuνres Inédites 1963~1973』, Ecole Nationale Supérieure des Beaux-Arts de Paris, Paris, 1996
-『Keunwon and Suwha』, Whanki Foundation·Whanki Museum, Seoul, 1996
-『Whanki Dessins Ⅰ,Ⅱ,Ⅲ』, Whanki Foundation·Whanki Museum, Seoul, 1996~1998
-『Suhyangsanbang Opening Exhibition : KIM Whanki's Gouaches 1961-1964』, Whanki Foundation·Whanki Museum, Seoul, 1997
-『Whanki Dessins』, Whanki Foundation·Whanki Museum, Seoul, 1998
-『KIM Whanki's Letter with Drawing』, Whanki Foundation·Whanki Museum, Seoul, 1998
-『Whanki & Gouaches : For HyangAn Ⅰ,Ⅱ』, Whanki Foundation·Whanki Museum, Seoul, 1999
-『Retrospective Exhibition, 25th Anniversary of KIM Whanki's Death : Ode to a White Porcelain Jar』, Whanki Foundation·Whanki Museum, Seoul, 1999
-『Retrospective Exhibition, 25th Anniversary of KIM Whanki's Death : KIM Whanki – Seoul, New York Period』, Whanki Foundation·Whanki Museum, Seoul, 1999
-『Suwha and White Porcelain – KIM Whanki's Collection』, Whanki Foundation·Whanki Museum, Seoul, 1999
-『Whanki Gouaches I,Ⅱ』, Whanki Foundation·Whanki Museum, Seoul, 2000
-『WHANKI Oil on Newspaper 1967-1968』, Whanki Foundation·Whanki Museum, Seoul, 2001
-『KIM Whanki Commemorative Exhibition, 90th Anniversary of KIM Whanki's Birth』, Whanki Foundation·Whanki Museum, Seoul, 2003
-『Commemorative Exhibition, 20th Anniversary of KIM Whanki's Death』, Whanki Foundation·Whanki Museum, Seoul, 2004
-『Commemorative Exhibition, 30th Anniversary of KIM Whanki's Death – The Man is gone, but the Art has remained』, Whanki Foundation·Whanki Museum, Seoul, 2004
-『KIM HyangAn Memorial Exhibition : Chant for Eternity』, Whanki Foundation·Whanki Museum, Seoul, 2005
-『The World of KIM Whanki's Paper Sculpture : The Poetics of Paper』, Whanki Foundation·Whanki Museum, Seoul, 2005
-『Bridge of Friendship – KIM Whanki and LEE Kyungsung』, Whanki Foundation·Whanki Museum, Seoul, 2006
-『KIM Whanki and the Beauty of Korea – Echo of Dot, Line, and Plane』, Whanki Foundation·Whanki Museum, Seoul, 2012
-『The Centennial Celebration of KIM Whanki's Birth I – Where, in What Form, Shall We Meet Again』, Whanki Foundation·Whanki Museum, Seoul, 2013
-『The Centennial Celebration of KIM Whanki's Birth II – KIM Whanki, Chant for Eternity』, Whanki Foundation·Whanki Museum, Seoul, 2013
-『KIM Whanki, Do the lines I draw go beyond the limit of the sky』, Whanki Foundation·Whanki Museum, Seoul, 2017
『Whanki – A Pioneer of Korean Modern Art』, Whanki Foundation·Whanki Museum, Seoul, 2017
-『KIM Whanki, the Aesthetics of Color』, Whanki Foundation·Whanki Museum, Seoul, 2017
-『Whanki's Works on Paper: KIM Whanki Catalogue Raisonne – Works on Paper I』, Whanki Foundation·Whanki Museum, Seoul, 2018
-『Whanki Catalogue Raisonné_Drawing I』, Whanki Foundation·Whanki Museum, Seoul, 2018
-『KIM Whanki, From Nature To Abstract Art』, Whanki Foundation·Whanki Museum, Seoul, 2020
-『Sacred Heart』, Whanki Foundation·Whanki Museum, Seoul, 2020
-『Whanki's Grand Tour, Paris Correspondence』, Whanki Foundation·Whanki Museum, Seoul, 2021