2023 Whanki Museum Special Exhibition
All Towards One and One For All – Museum Guide 🚩
Whanki Museum presents "Museum Guide," a citizen participation-oriented barrier-free exhibition to commemorate the 110th anniversary of KIM Whanki's birth and promote social harmony, understanding, and accessibility for vulnerable cultural groups, such as different generations and social classes, as well as people with disabilities.
The "Museum Guide" exhibition provides "Companionship Supporters" volunteers to accompany those who have difficulties visiting the exhibition. The supporters can assist foreign visitors, people with visual or hearing impairments, and seniors by providing basic guidance on each exhibition space, unlike regular tours conducted by the Whanki Museum docents.
If you need assistance, you can reserve a  "Companionship Supporters"  on the available dates listed in the table below based on your specific group:
<Available Groups for Guide Supporter Reservation>
Foreign visitors
People with visual impairments
People with hearing impairments (*Communication via written notes is possible for people with hearing impairments)
Seniors and education experience groups should request support on-site
<See the Monthly Schedule of the Guide Supporter>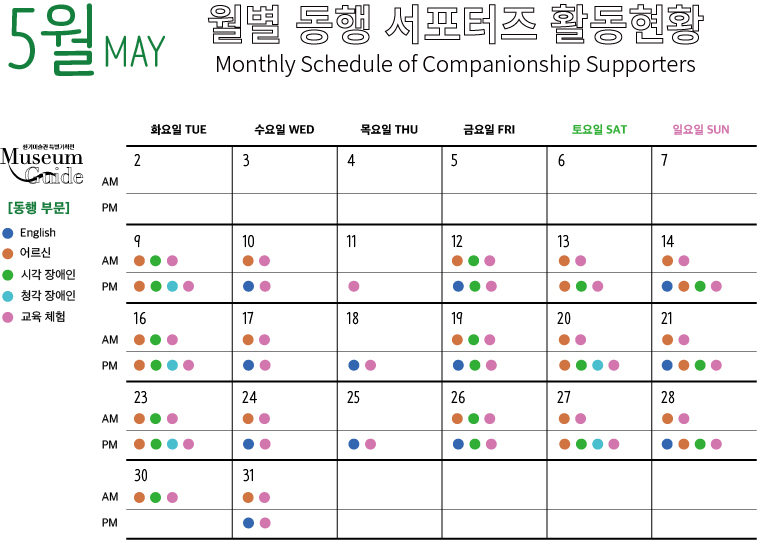 ※ Guide Supporters can only be reserved for individuals or groups of three or fewer people.
※ Please reserve at least one day in advance of the selected date, and on-site reservations will be accepted on the day of the visit.
※ If you apply for a date that does not correspond to the Supporter's activity day, your reservation will be automatically canceled without further notice.
※ If there are already reserved visitors on the same date, the schedule may change.
※ Once your reservation is confirmed, a notification message will be sent to the phone number you provided.
※ If you cancel your reservation on the day of the visit without prior notice, you may be restricted from future reservations.
※ For other reservation inquiries, please contact the Whanki Museum Education Team via edu@whankimuseum.org